ENTREPRENEUR NEWS
News FOR IMMEDIATE RELEASE . . . FROM A MUSIC ENTREPRENEUR . . .

Broadway-Bound FEARLESS!
A Beacon for
"Music-Starved" Boomers
Tennessee Singer/Songwriter and National Book Award Author Launch Performance Tour Team to Set Stage for "Path to Broadway" — Seek to Raise $45,000 for Habitat, Bryan, and Mustard Seed!
     Nashville…"Think about it," contends Tennessee performer and composer Valerie Connelly, "there is no contemporary music platform for Baby Boomers!" Connelly notes that adding "fringe year births" to each end of the 1946-64 Boomer Generation accounts for nearly 100 million people. "And they are all music-starved," she says, "forced to live on a no-option diet of oldies-but-goodies! This musical, FEARLESS!, pays it forward!"
     Connelly brought her twenty years of professional music performance experience to Tennessee in 2009. She is now working with national book award author and her script co-author Hal Alpiar, joined by an ad hoc team of Central Tennessee business owners, consultants, and professional educators, to ignite the World Première opening schedule, of FEARLESS! in Tennessee.
     "Now add that," Connelly says, "to the fact that even in this day and age, hundreds of talented deserving young people still cannot afford college tuition. We have the beacon —the musical entertainment package of a generation ready to stage, ready to light up the State by dedicating ALL PERFORMANCE PROCEEDS to: Habitat for Humanity, the nationally-renowned (nonprofit) Bryan Symphony Orchestra based in Cookeville, TN, and the Mustard Seed Ranch for struggling and endangered children."
     Connelly, a lifelong entertainer, says her newest "Broadway-bound" show, FEARLESS! The Golden Love Musical, spotlights twenty-three original songs that capture the hearts and humor of those above forty years-old. The two creators believe the Cookeville (TN) Performing Arts Center stage is the perfect venue.
    "Numerous business sponsorships (as many as 100 are expected) are closing the gap between production expenses and charitable funding, expected to reach a 3-way split total of $45,000" says script co-author Alpiar.
     Connelly, who hosted her own Internet radio show for six years, is also an accomplished fine artist whose paintings and block prints have been shown in Midwest and Southern galleries. She is a five-time author, and runs her own publishing firm with 200 books and hundreds of songs to her company's credit since 1990 www.NightengaleMedia.com.
     During her early performing years, she took a two-year break to serve in the Peace Corps, in West Africa, then followed with a twenty-five-year long French and English teaching career in the north and northwest suburbs of Chicago, which she overlapped with music performances throughout the Midwest.
     FEARLESS! scene descriptions and samples of the music are available for preview and download at www.FearlessTheMusical.com.
     If you're interested in participating in the première staging and Broadway-bound pursuit, or in auditioning for acting/singing/dancing roles, please contact Hal Alpiar at 931.854.0474 or Valerie Connelly at 931.854.1390 or email Hal@TheWriterWorks.com or valerie@fearlessthemusical.com for details.
# # #
CONTACT: HAL ALPIAR  931.854.0474  or  hal@businessworks.US  
~~~~~~~
  FROM A WRITER AND BUSINESS ENTREPRENEUR . . .
Discover Business Professor
Maddigan's Role in History's


Biggest Offshore Drug Deal.
By national book award-winning author Hal Alpiar
The number one song is Bette Davis Eyes. John Hinckley, Jr. shoots President Reagan. One computer occupies an entire wall. No cell phones or metal detectors. The World Series Dodgers beat the Yankees in six. Teachers date students. Potheads out-number alcoholics. It's 1981, and pandemonium strikes in a raging storm fifteen miles off the Jersey Shore!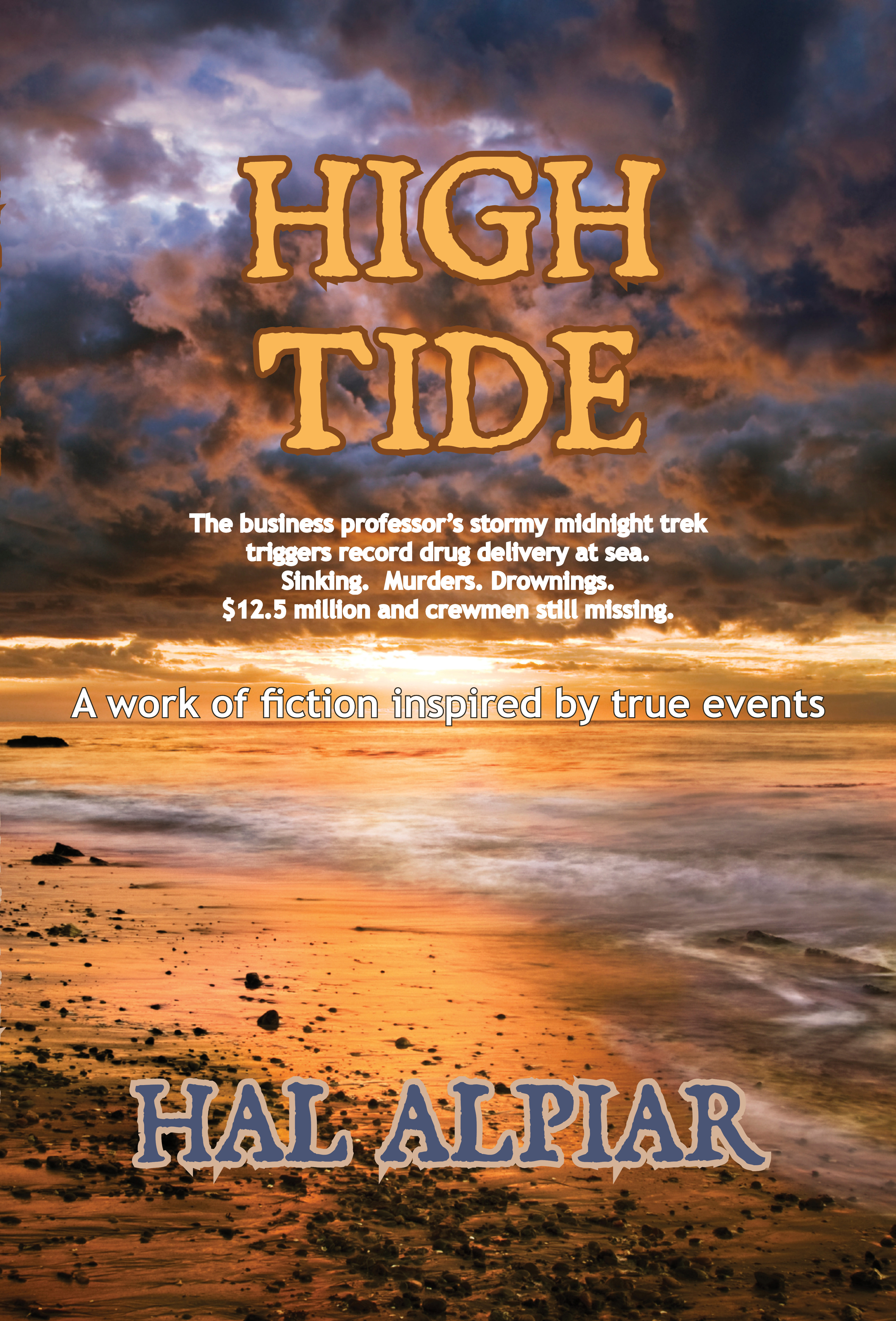 "SHOCKING!" Excerpt. . .
   Throbbing spurts of blood run wildly in every direction

connecting rubber-booted feet that stand wobbling in a

circle across the deck. The 56-foot Maltese rises and falls

on eight-foot waves that spray walls of saltwater up the

portside hull, giving the trawlers wake a serpent-like

appearance.

"Remember this spot where we are, right here, right now!

Remember it! Remember Jocko's blood here on the deck

that's working its way to your boots! Remember I fookin'

told him to keep his fookin' mouth shut about this trip!"

Spittle flies from Simo's beard-ravaged, brown-toothed

mouth… "YOU'LL SHUT UP WHEN I TELL YOU TO!"

He turns and heaves his drooling cheekful of tobacco at

Jocko's twitching, gurgling, near headless body… then, still

brandishing the bloody machete, steps up to each face and

whispers loudly, "YOU GOT THAT?"

"TOP-NOTCH STORYTELLING!"
"HIGH TIDE floods the reader with suspense, the gritty reality and intrigue of the drug trade, all the while weaving the life of renegade college professor, Rick Maddigan, into a tapestry of romance, greed, and campus life with a cast of characters readers will come to love and to hate."  VALERIE CONNELLY, PUBLISHER, NIGHTENGALE PRESS
"FUNNY!"
"The (HIGH TIDE) scene where the younger students are kicked out of class is excellent. . . I like the idea of a professor at a community college deciding he's going to act the way he does (the bullshit stamp is really funny) . . . you're clearly full of good ideas." A "TOP 10" LITERARY AGENCY AAR AGENT
"INSPIRING!"
"Your manuscript convinced me that you are a genius. Your writing approach, niche and storytelling are all sensational." FOUNDER – "TOP 5" PUBLISHING DIVISION
"ROMANTIC!"
"The couple (JP and the professor) is fun and tense at the same time. Readers will feel like they are in the middle of a blooming relationship. And those kisses? Wow!" PRESIDENT- A BOOK DISCUSSION GROUP
Get the "SCOOP" on Hal's True Crime/Fiction
(Including a excerpt reading by the author)
~~~
  ABOUT A RETAIL AND PRIVATE SECTOR GOVERNMENT ENTREPRENEUR . . .
"GOOD LUCK!"
Wisdom from a Life of Leadership
in Turbulent Times…
The Authorized Memoir of Ernst Dannemann
 (Privately commissioned book; not for sale. FICTIONALIZED version inquiries invited)
25-WORD LOGLINE SYNOPSIS FOR FILM PRODUCERS:
Steamshipped away, Hitler to Manhattan, 15-year-old Ernst delivered newspapers, farmed chickens, enlisted… won medals, citizenship, Holocaust bride, Delaware leadership, White House prominence, and business fortunes.
# # #
A sampling of reader comments . . .
"Well done! I just got a copy of the book this morning and it has already brought me to tears. You have done a wonderful job. I can tell Mr. Dannemann touched your heart."

Rich Phillips

"Mr. Alpiar, you have crafted such a readable memoir that I can almost hear Ernst Dannemann speaking through it. You really captured the man. The book is a priceless treasure I would have paid any price for."

Sandy McNinch

"You have really written a great description of Ernie and his life the way I knew him and saw him day to day for so many years. The book is entertaining and accurate. I'll read it many times."

Debbie Angstadt
# # #
Also by HAL ALPIAR
Highway to a Higher Authority
– A Commissioned Memoir
The Dirt Floor Visit
– Short Story in The Art of Grandparenting
DOCTOR SHOPPING
– Nonfiction for Healthcare Consumers
DOCTOR BUSINESS
– Nonfiction for Healthcare Providers
Doodle-OO Bear
– Illustrated for 4-6 year-olds, in Verse and Music
Anchor (Book & Video) in Self-Esteem Development Series
Scheduled for 2015 Release as a Tennessee Tech University video
Job Hunter
– Outplacement & Career Search Action Guide Editor
Business Talk
– Magazine Editor-in-Chief
Halogen-Free Care
–Magazine Editor-in-Chief
Residential Life
– Magazine Editor-in-Chief
HealthWize
– Magazine Editor-in-Chief
Delmarva Quarterly
– Cultural Magazine Regular Contributor
Green Bear
– Magazine Editor-in-Chief
And
Assorted Poems –
Published in four different collections
1200+ www.BusinessWorks.US –




Blog Posts

: Ongoing since April, 2008
700+"BusinessWorks-On-The-Air"–
Daily Radio Shows: Creator/On-Air Host
Click Here to Comment On This Post
Please Feel Free to Leave a Comment Below